Hawksbill sea turtles
Status: Critically Endangered
Hawksbill turtles are found in tropical and sub-tropical waters throughout the world. They are a comparatively small turtle, measuring up to 82cm in carapace length and weighing around 50kgs.
Hawksbill turtles are omnivores feeding mainly on sponges and algae.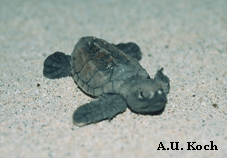 Hawksbill turtles are largely known for their ornate carapace ("tortoiseshell"), which was heavily used for trade and making ornaments and pendants.