AusTurtle Inc is a major supporter of sea turtle research at Bare Sand Island, Northern Territory.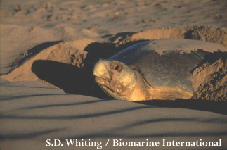 A large population of flatback sea turtles nest at Bare Sand Island during the winter months. During this time, researchers and volunteers gather data on the nesting turtles to estimate population size, monitor abundance over time and to determine any threats to survival. This research has been running since 1996 and has identified an important nesting population of flatback sea turtles. Funding for the research has always been very restricted creating limitations to data collection and the length of the field season. With increasing support from AusTurtle over the next 5 years, it is hoped that research will be able to be expanded to include electronic tagging of nesting turtles, satellite tracking of nesting turtles and undertaking extensive temperature studies on the nests in situ. With this additional support it will create an ideal work environment for student projects, further enhancing our knowledge of the species and the research undertaken.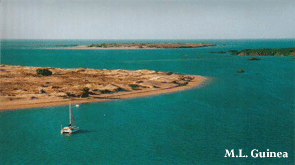 The waters around Bare Sand Island support significant numbers of foraging green and hawksbill turtles. Both species are vulnerable to extinction under Australian classification (EPBC Act 1999). Green turtles are internationally classified as endangered and hawksbill turtles are critically endangered internationally (IUCN Red List). Annually researchers monitor green and hawksbill turtle populations by capture of turtles while they are feeding on the reef. This research will provide population estimates, relative species abundance and identify threats.
About the project
Charles Darwin University in Darwin, Australia has conducted a sea turtle research project to Bare Sand Island since 1989. This project is a scientific study to examine the biology and ecology of nesting and foraging sea turtles. This will help with sea turtle conservation regionally, nationally and internationally.
The project is run by Dr Michael Guinea, Honorary Fellow of Charles Darwin University, AusTurtle Inc members and volunteers from the public and students.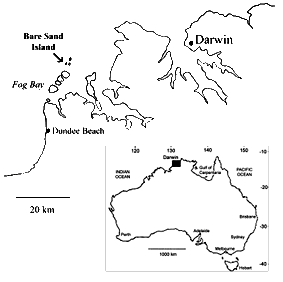 Location
Bare Sand Island is situated at the end of a chain of islands in northern Fog Bay, about 50 km west of Darwin. The island is approximately 1.8 km in circumference. Bare Sand Island sits upon a rocky reef, and as the name suggests is almost all sand with very little vegetation and almost no shade.
Environment
Bare Sand Island is mostly sand and consists of low dunes sparsely vegetated with grasses and herbs. One tree grows on the island but it is unsuitable for shade as it is a sacred site. The island is 1.8 km in circumference and takes about 40 min to walk around.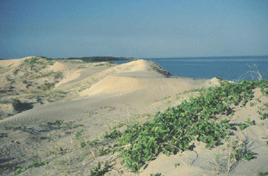 The region is subject to a large tidal range (up to 8 m) and the island is therefore subject to strong currents. Strong winds can occur in the area and this makes camping uncomfortable in the sandy conditions.
The nearest settlement is a house on Dum in Mirrie Island (over 10 km away). Otherwise the research camping is fairly isolated with the next community over 20 km to the south.
Research activities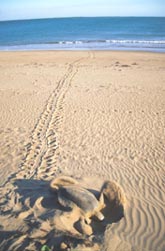 Nesting Flatback Sea Turtles -
Activities will be conducted at night and early morning and will include checking the beach for tracks, tagging and measuring adult females, counting and measuring eggs.
Foraging Green and Hawksbill Sea Turtles -
Activities may be conducted during the day and can include catching juvenile turtles on the reef flat on a ad-hoc basis using nets and by hand, tagging and measuring all turtles, helping with specific studies on blood chemistry, diet analysis and movements (using tracking equipment), predation of hatchlings and hatchling vocalisation.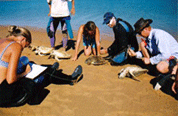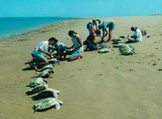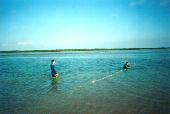 Wildlife Observations -
Other interesting fauna visit the island and its surrounding waters. These are opportunistically studied. They include sea and shore birds, dolphins (3 species) crocodiles and dugongs.
Volunteers are required for the 2019 research expeditions between 10 June and 29 July 2019. There are seven separate research trips. There are positions for eight volunteers on each trip. There is a cost for each trip to cover food and transport expenses. The advantages of staying for two weeks include: developing a synergy with the island, the tides and the turtles; having greater participation in collecting and collating data; enjoying the company of other volunteers for even longer.
Costs, Registration and Pre-payment
It is necessary to register your intention to participate by completing the Volunteer Application Form and submitting it online. This can be done by checking the vacancies below and completing the online application for AusTurtle Inc. A pre-payment deposit of $50.00 will ensure that your registration is confirmed and your name will appear below in the appropriate position for the nominated trip. The balance of your payment should be made on arrival in Darwin and before the trip. If you cancel your registration in the weeks preceding your trip, your pre-payment deposit will be used to support the sea turtle research conducted on Bare Sand Island by AusTurtle Inc and acknowledged on this web site.
The costs for 2019 have been modestly increased.
Full time students = $65.00 per day (i.e. 7 days for $455.00 or 14 days for $910.00. AusTurtle Inc membership is included in the participation fee.

Non-students are charged the same as students = $65.00 per day (i.e. 7 days for $455.00 or 14 days for $910.00 (This includes AusTurtle Inc membership).

Members of corporations please contact us for a personalised trip catering to your requirements.
Transport covers high speed boat ride from Darwin Harbour to Bare Sand Island with "Flatback" operated by Sea Darwin.
A transport surcharge will be required for shorter trips or for leaving the island at an unscheduled time to cover the cost of additional boat charges. This will be done in consultation with the boat operator.
Included in the cost are the following:
Boat transfer from Darwin to Bare Sand Island return.
Food and accommodation (3 person tent and sleeping mat for each volunteer) on Bare Sand Island
Not included are:
Food and accommodation in Darwin prior to and after the trip to Bare Sand Island.
Transport to and from the Airport / Railway Station or Transit Centre in Darwin.
Personal Insurance – volunteers are expected to have their own personal travel and health insurance. Personal expenses.
At times we have some e-mail difficulties! Check if your name is listed for the appropriate trip. IF NOT, THEN CONTACT ANDREW OR MICK at austurtle@austurtle.org.au or phone Mick

Trip 1
Departure Date: Monday 10 June 2019
Return Date: 17 June 2019
Volunteers: Your name will be listed here after your successful application.
| | |
| --- | --- |
| 1. Melissa Watts | 5. Mark Barnes |
| 2. Quinlan Collins | 6. Veronica O'Keefe |
| 3. Allison O'Keefe | 7. |
| 4. Carolyn Tesselaar | 8. |
Plus Mick Guinea(Camp Leader) and Scott McDonald(Field Assistant)
Trip 2
Departure Date: Monday 17 June 2019
Return Date: 24 June 2019
Volunteers: Your name will be listed here after your successful application.
| | |
| --- | --- |
| 1. Kayla Hargrave | 5. Isabella Mairou |
| 2. Isabella Buring | 6. Brianna Crooke |
| 3. Hannah McCarthy-Morgan | 7. Tjina Stoll |
| 4. Emily Moxom | 8. Kellie Stripling |
Plus Mick Guinea (Camp Leader) and Ella-Monique Mason(Field Assistant)

Trip 3
Departure Date: Monday 24 June 2019
Return Date: 1 July 2019
Volunteers:Your name will be listed here after your successful application.
| | |
| --- | --- |
| 1. Peter Jackson | 5. Miranda Howlett |
| 2. Kjell Hensen | 6. Edward Nurse |
| 3. Robert Irvine | 7. Michelle Clark |
| 4. Erin Barritt | 8. Sarah Chubb |
Plus Liz Wemyss(Camp Leader) and Ella- Monique Mason(Field Assistant)


Trip 4
Departure Date: Monday 1 July 2019
Return Date: 8 July 2019
Volunteers:Your name will be listed here after your successful application.
| | |
| --- | --- |
| 1. Alexander Williams | 5. Natasha McBride |
| 2. Tina Kievit | 6. Justin Bott |
| 3. Annabel Kievit | 7. Bethanie Sutton |
| 4. Ben Kievit | 8. Paige Rahn |
Plus Sharna Schmith(Camp Leader), Ella Mason(Field Assistant), Ben Mills & Lucy Hartley

Trip 5
Departure Date: Monday 8 July 2019
Return Date: 15 July 2019
Volunteers:Your name will be listed here after your successful application.
| | |
| --- | --- |
| 1. Shelby Long | 5. Alan James |
| 2. Charlotte Welch | 6. Lennon Decker-James |
| 3. Louisa Li | 7. Carolin Stock |
| 4. Sina Stock | 8. Ben Mills |
Plus Sharna Schmith(Camp Leader), Luca Stock(Field Assistant), Ella Mason, &

Trip 6
Departure Date: Monday 15 July 2019
Return Date: 22 July 2019
Volunteers:Your name will be listed here after your successful application.
| | |
| --- | --- |
| 1. Laura Cox | 5. Vivien Clarke |
| 2. Tjina Stoll | 6. Mia Hyde-Woodbridge |
| 3. Elana Balderstone | 7. Luca Stock |
| 4. Claire McGregor | 8. Ben Mills |
Plus Dean Wright(Camp Leader), Cassidy Gerken(Field Assistant)

Trip 7
Departure Date: Monday 22 July 2019
Return Date: Monday 29 July 2019

Volunteers:Your name will be listed here after your successful application.
| | |
| --- | --- |
| 1. Raine Mara | 5. Thomas Hanson |
| 2. Cherie Mara | 6. Narelle Drake |
| 3. Majella Mara | 7. Susie O'Neill |
| 4. Jessica Cox | 8. Annie Hilzinger |
Plus Dean Wright(Camp Leader), Kristen McNamara(Field Assistant), plus Ella Mason

These expeditions are open to anyone. Interested volunteers should complete a volunteer application form online and contact AusTurtle Inc through the website.
All volunteers are required to fill and submit an application form.
Or paste this link into your browser:
https://docs.google.com/forms/d/1M7gYYc-ggkSd0YlUGnkn6pvE7v18WWcZn2WediNVABQ/viewform?usp=send_form




What to expect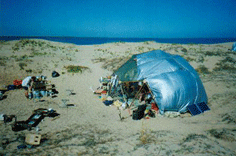 This is a fun trip but requires hard work and long hours working under difficult conditions. Volunteers will help with all research activities during the expeditions. The island consists of very fine sand that gets everywhere when conditions are windy (40 km per hour). You will be walking on soft sand. It is difficult to keep it out of cloths, bags, tents etc. Clip-seal plastic bags are very handy for cameras and other valuables
There is a composting toilet and saltwater is used for bathing, dish and laundry washing. Freshwater is reserved for drinking and cooking. Food is basic consisting of meats and breads with plenty of fresh fruit and vegetables. Meals are prepared fresh daily using fresh ingredients. Specialised food requirements are catered for providing sufficient notice is provided on your application form. All volunteers will be required to participate in general camp duties including camp setup and maintenance and food preparation, cleaning and washing dishes. The main camp will consist of a large tent to store food and general gear. A gazebo to cover the open air kitchen. A geodesic dome (5 m diameter) acts as a communal area and provides shade during the day. Electricity is provided by solar panels (200 Watts) for refrigeration and lighting. There is limited capacity for charging equipment such as cameras. It is advisable to bring a personal solar charger for your equipment. We will provide you with a 3-person tent and sleeping mat for your individual use, and all the plates, cups and cooking gear.
What to bring
Remember it will be hot during the day (35 C) and cold at night (15 C). There is limited shade away from the camp and fine sand will get everywhere!
General - Hat, sunglasses, long sleeved shirt for sun protection, long pants , dive boots or old runners to get wet, water proof sunscreen or zinc cream, pull-over or jumper, personal toiletries, talcum powder, moisturiser, shampoo and conditioner (regular or leave-in), swimmers, camera (in plastic bag), sleeping bag, pillow, personal water bottle, personal torch or head spotlight (with a red LED), some fishing gear (if you desire).
Don't forget to pack your sense of adventure along with plenty of enthusiasm!

Further information
For further information on the research trip, download the volunteer manual (these are in the process of being updated):
Volunteer Manual

Draft Standard Research Operation Procedures


Sample Risk Assessment with muster point
Or have a look at a review of the research trip in the Australian Geographic:


Australian Geographic
September 2003 issue
Contact details
For more general information please contact Mick, or Andrew by e-mailing austurtle@austurtle.org.au.
Dr. Michael Guinea (Honorary Fellow)
Research Institute of the Environment and Livelihoods
Charles Darwin University
Darwin, NT, Australia, 0909
mobile: 0438192507
Email: austurtle@austurtle.org.au